Arcade Games
Talk

1
344pages on
this wiki
This is a list of arcade games based on Happy Tree Friends. These games are available on the provided sites and are provided with links to playing them.
Flippy Amok - CubShoot 1,2, and 3: Cubshoot is a copy of one the well known online Games "Pingu Throw " made by Yetisports. The game is controlled with the mouse buttons. Clicking with the mouse for the first time will drop Cub from the tree and with the second you will fire him.
Flippy Amok - Bloody Lemonade: At the beginning of the game, Flippy appears behind Giggles and Petunia at their lemonade stand, and the view pans upward. In a similar manner to Fruit Ninja, the player must move Flippy's knife to slice lemons and body parts flying in the air.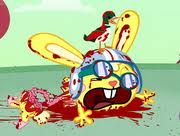 Hare Trigger: Cuddles and Toothy are putting on their cannonball hare act at the circus. Aim and fire the cannon and see how far Cuddles goes. The game is a reference to the tv episode, Mime to Five.
Play here
Aim to Freeze: A snowball war between Cuddles, Toothy, and Lumpy. An arcade game based off Strain Kringle that can be played up to 2 players.
Play here
On Thin Ice: Russell's ship is wrecked and you have to save him from a giant squid.
Play here
Strandead: Launch Giggles from a sling shot and shoot her as far as possible. This game is based on Happy Trails Pt. 2: Jumping the Shark. It is now available in the App Store.
Play here
Candy Cave: Feed Nutty's candy cave by having him grab candy in a cave! Enable his addiction now!
Play here
Stay On Target: Take a spin with Petunia, Giggles or Lammy on the wheel of misfortune! Do you have what it takes to hit the mark?
Play here
Run and Bun: This upcoming game will involve Lifty and Shifty stealing bread buns from The Mole. It will feature 5 characters who all have different vehicles. There will also be different levels, each with its own unique obstacles and traps to watch out for and avoid. There are special buns which can enable different powers.
See sneak peek
Interactive games available on YoutubeEdit
Milk Pong: Nutty has to throw a pingpong ball into a glass. Move the ball over the glass and when you click the mouse, the ball will go into the glass and Lumpy will drink the milk.
Play here
Double Vision: There are multiple levels in which the player must spot the difference between two images that are a clip from an HTF episode, winning a level plays a short, violent clip from a random HTF episode.
Play here
Lumpy's Lame Card Trick: Lumpy is a magician performing a card trick. The player is shown six cards and must select one.
Play here
As shown from the game Flippy Attack, Flippy kills Cuddles by shooting him with a gun, despite the "no death by guns" rule in HTF.
A female brown mouse character is seen in Crazy Disco. She might be a rejected character or just a placeholder for a generic tree friend.
This Game is All Flocked Up is the only arcade game to contain no blood and gore.
If you subscribe to the Mondo site, you might also see upcoming arcade games from the e-mail they gave you.
Since September 2012, another HTF-related site called flippyamok.com was made. The CubShoot games are all moved there, so do the E-Card Creator and Flippy Chat.
In Crazy Disco, Cuddles is seen in a bikini, even though he is a male character.
So far, Strandead is the only HTF arcade game to be an iPhone app, making it the second HTF iPhone app after Slap Happy.
Stay on Target is the first game to feature Lammy.
The description for Bloody Lemonade mentions Cuddles instead of Giggles.