Featured Article - Happy Tree Friends: Still Alive (November 18, 2017)
Do it for them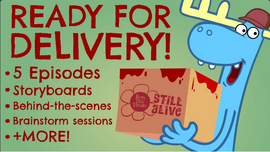 Are you a fan of Happy Tree Friends? Are you dying to see new episodes?
For only $5.99, you can download all five Still Alive episodes, plus bonus materials, and help raise the budget for more new HTF content in the future.
Click here to learn more.

This section will usually be updated when there are new articles available, or when something particularly interesting appears in an already existing article.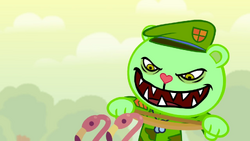 In Over Your Hedge

Flipqy is back, and this time he has a thing against Flamingos.
Contents
| | |
| --- | --- |
| Happy Tree Friends Universe | Other |
Join the chat
Feel free to join the HTF wiki chat! Please read and follow our chat policy. We hope you'll have fun here :)
Twitter
Helping out
To write a new article, just enter the title in the box below.
Not sure where to start?
Find out more about the wiki on the About page.
If you are new to wikis, check out the tutorial.
Before editing, you may read our Policy.
Adding content
Every wiki has two list of articles that need help called "Stubs" and "Wanted Articles". Don't be shy, get in there.
New pages usually need to get a lot of work on, fell free to come there and edit a bit.
This wiki always needs some images to upload, feel free to do that. Before uploading, visit the Image Policy and than upload and image.
You can find a list of useful templates on Category:Templates, some of which are documented on the templates project page.
Practice in the Sandbox if you want to add an new article. For templates, practice in the Template Sandbox.
Did you purchase HTF: Still Alive?
Happy Tree Friends Fanon Wiki
Do you want to post your own fanon character, episode, or even spin-off? Feel free to do this on our sister wiki!

Forum
Blogs
If i'm not wrong i think this topic may have been discussed, but i can't seem to find one blog post related to it.

I had this thought swirling in my mind in the past few days : 

Characters that you pity when they die in particular episodes? That's a pretty funny thing to say, as htf is known for thei…

Read more >

(It all starts with them on the ship partying just like the original version.)

Russell: I can't wait to have fun!

Toothy: (drinking his coconut milk) Me too!

Flaky: (to herself) Let's just hope nothing goes wrong, Flaky.

Cuddles: (to Giggles) Isn't this romantic?

Giggles: It sure is, Cuddles. It's all g…

Read more >

Lammy: Hey Giggles, can you do me a favour?

Giggles: Yes Mama, what is it?

Lammy: Can you go buy some magic beans for our dinner?

Giggles: Sure! I'll be back!

Lammy: Ok thanks!

(Giggles is about to go to the store but is suddenly stopped by Lifty and Shifty.)

Lifty/Shifty: Hehehe

Shifty: What the fuck are…

Read more >
Mission
The primary mission of the Happy Tree Friends Wiki is to collect information that will be useful to people who are new to the Happy Tree Friends series and even those who are familiar with the show. This wiki serves as a network of user added and editable information for the whole series.
About
Happy Tree Friends is a Flash cartoon series by Mondo Mini Shows, created by Kenn Navarro, Aubrey Ankrum, Rhode Montijo and Warren Graff. Since its debut the show has become a popular internet phenomenon and has won a cult following. As indicated on the official site, the show is "not recommended for small children". Notwithstanding the cute appearance of its characters, the show is extremely violent, with almost every episode featuring blood, gore, and violent deaths. The show is so violent, it was banned in Russia!
Top 10 contributors
Loading...
Pick your favorite character