Featured Article - Happy Tree Friends: The Movie (Release Date TBA)
The Happy Tree Friends Movie
It's LONGER, it's FUNNIER and best of all, it's GORIER! It's the first full-length feature film about the #1 cartoon in the whole gore genre! And it's coming our way 2016/17!

This section will usually be updated when there are new articles available, or when something particularly interesting appears in an already existing article.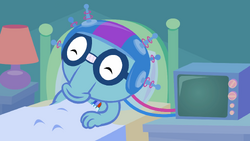 Dream Job

Sniffles' plans to have a good night sleep are ruined by you-know-who.
Contents
| | |
| --- | --- |
| Happy Tree Friends Universe | Other |
Join the chat
0
Happy Tree Friends Wiki
Feel free to join the HTF wiki chat! Please read and follow our chat policy. We hope you'll have fun here :)
Join the Chat>
Twitter
Helping out
To write a new article, just enter the title in the box below.
Not sure where to start?
Find out more about the wiki on the About page.
If you are new to wikis, check out the tutorial.
Before editing, you may read our Policy.
Adding content
Every wiki has two list of articles that need help called "Stubs" and "Wanted Articles". Don't be shy, get in there.
New pages usually need to get a lot of work on, fell free to come there and edit a bit.
This wiki always needs some images to upload, feel free to do that. Before uploading, visit the Image Policy and than upload and image.
You can find a list of useful templates on Category:Templates, some of which are documented on the templates project page.
Practice in the Sandbox if you want to add an new article. For templates, practice in the Template Sandbox.
Happy Tree Friends Fanon Wiki
Do you want to post your own fanon character, episode, or even spin-off? Feel free to do this on our sister wiki!
Forum
Forum Activity
Blogs
First Nutty's picture randomly changes now Flaky's? I don't know what it says on anyone else's monitors but I see nothing about the characters pictures being changed recently in there history. I wouldn't bring this up if the new pictures looked good (and they do), but neither Flaky and Nutty's pict…

Read more >

The reason is because there are still a lot of episodes of this show in which a certain character gets tortured worse than the others and have a whole bunch of unfortunate events happen to them. Also, usually when it's starring them. The idea was taken from the term "Squidward Torture Porn" which i…

Read more >

Well guys, it took some time for me to realize this, and it was a very hard desicion, but I need to leave. It happens because something just needs to be changed in my life, and I've decided to change my lifestyle. I should say it was a really nice experience to be here. I learned much new things, i…

Read more >
Mission
The primary mission of the Happy Tree Friends Wiki is to collect information that will be useful to people who are new to the Happy Tree Friends series and even those who are familiar with the show. This wiki serves as a network of user added and editable information for the whole series.
About
Happy Tree Friends is a Flash cartoon series by Mondo Mini Shows, created by Kenn Navarro, Aubrey Ankrum, Rhode Montijo and Warren Graff. Since its debut the show has become a popular internet phenomenon and has won a cult following. As indicated on the official site, the show is "not recommended for small children". Notwithstanding the cute appearance of its characters, the show is extremely violent, with almost every episode featuring blood, gore, and violent deaths. The show is so violent, it was banned in Russia!
Top 10 contributors
Loading...