Featured Article - Happy Tree Friends Returns! (October 28, 2016)
The Slow and Painful Wait is Over
After over two years on hiatus, Happy Tree Friends comes back this December with five new episodes! See it for yourself!

This section will usually be updated when there are new articles available, or when something particularly interesting appears in an already existing article.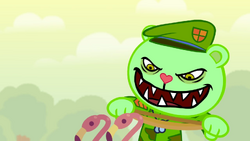 In Over Your Hedge

Flipqy is back, and this time he has a thing against Flamingos.
Contents
| | |
| --- | --- |
| Happy Tree Friends Universe | Other |
Join the chat
Feel free to join the HTF wiki chat! Please read and follow our chat policy. We hope you'll have fun here :)
Join the Chat>
Twitter
Helping out
To write a new article, just enter the title in the box below.
Not sure where to start?
Find out more about the wiki on the About page.
If you are new to wikis, check out the tutorial.
Before editing, you may read our Policy.
Adding content
Every wiki has two list of articles that need help called "Stubs" and "Wanted Articles". Don't be shy, get in there.
New pages usually need to get a lot of work on, fell free to come there and edit a bit.
This wiki always needs some images to upload, feel free to do that. Before uploading, visit the Image Policy and than upload and image.
You can find a list of useful templates on Category:Templates, some of which are documented on the templates project page.
Practice in the Sandbox if you want to add an new article. For templates, practice in the Template Sandbox.
Happy Tree Friends Fanon Wiki
Do you want to post your own fanon character, episode, or even spin-off? Feel free to do this on our sister wiki!

Forum
Blogs
WARNING: THIS GALLERY MAY MAKE YOU YAWN... CHECK IT OUT AT YOUR OWN RISK!

Please comment down below if you think a picture doesn't belong or one has been forgotten! It would really help the trustworthiness of everything!

This gallery is for all the yawns. A few characters have a yawning scene, but th…

Read more >

Crunch

---

1. Seize the Day

An okay episode. Watching Cuddles' suffering from a seizure was pretty funny and Lumpy still somehow losing at their video game was also good. Though I felt Cuddles' death could've been represented better.

(Decent)

---

2. Chore Loser

This episode is definitely better than the p…

Read more >

Well, since I felt like I should do something different in this post, I figure that there were quite a few HTF games out there and decided to review them, 2 at a time. The thing I find most ironic is that Splurgde123 was thinking about this idea in his last post and I figure it's just some coincide…

Read more >
Mission
The primary mission of the Happy Tree Friends Wiki is to collect information that will be useful to people who are new to the Happy Tree Friends series and even those who are familiar with the show. This wiki serves as a network of user added and editable information for the whole series.
About
Happy Tree Friends is a Flash cartoon series by Mondo Mini Shows, created by Kenn Navarro, Aubrey Ankrum, Rhode Montijo and Warren Graff. Since its debut the show has become a popular internet phenomenon and has won a cult following. As indicated on the official site, the show is "not recommended for small children". Notwithstanding the cute appearance of its characters, the show is extremely violent, with almost every episode featuring blood, gore, and violent deaths. The show is so violent, it was banned in Russia!
Top 10 contributors
Loading...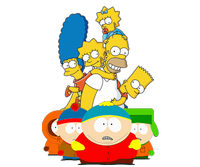 Ad blocker interference detected!
Wikia is a free-to-use site that makes money from advertising. We have a modified experience for viewers using ad blockers

Wikia is not accessible if you've made further modifications. Remove the custom ad blocker rule(s) and the page will load as expected.