Vote or Die was the 10th year anniversary celebration that started on March 1, 2010 and ended on March 31, 2010.
Voting
There was a poll on the HTF website where the fans voted for Lammy or Truffles to be next main character.
Results
Out of the 181,512 votes...
Lammy and Mr Pickles has increased 18.19% higher than in Truffles.
April Fools Joke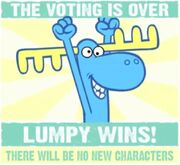 On April 1st (April Fool's Day), the Happy Tree Friends crew put up an image that stated the voting was over, Lumpy had won, and there was to be no new characters, implying the entire poll was one elaborate April Fool's prank. This was obviously untrue. The joke had convinced several fans that it was true, however, the following day, it was then revealed that it was a joke and Lammy and Mr. Pickels won.
Videos
See Also
Ad blocker interference detected!
Wikia is a free-to-use site that makes money from advertising. We have a modified experience for viewers using ad blockers

Wikia is not accessible if you've made further modifications. Remove the custom ad blocker rule(s) and the page will load as expected.